"If the shoe fits, wear it" Not quite….here's a few things to consider.
Your babies are soft and pliable up until they are 5 years old. We know already how important it is for our little ones feet, to be able to strengthen and develop their muscles, ligaments and tendons naturally without having to conform to a structured sole.
Finding the right fit is equally important. So here is a few easy steps you can take to ensure you are selecting the best shoes for babies learning to walk.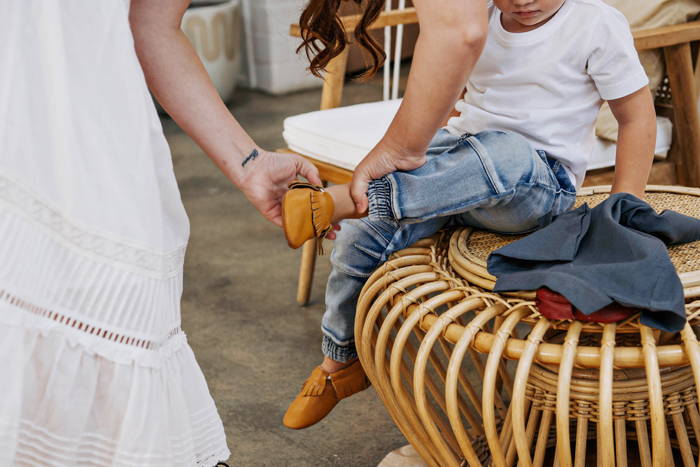 Foot shaped shoes. Sounds obvious, doesn't it?
But if you have a close look at your little ones feet compared to your own. You'll note the shape is quite dramatically different. The toes are more likely splayed out with greater gaps in between in each toe. Ensure that the toe box (the areas that holds the toes of the shoe) is wide enough to allow space for the toes and feet to sit in this natural position, not cramped at the end or toes squished together.
Wiggle room
Those squiggy little toes need plenty of room to wiggle, move, flex and grip as your little one masters their walking action. We recommend between 8mm-15mm space at the end of largest toe. So just like you possibly remember your mum doing compress gently at the end of the big toe and make sure there is space when they are weight bearing for that wiggle.
Growth Spurts
One day it's taking 3 hours for them to eat one pea at dinner the next you are remortgaging to keep up with the food bill. You know the feels right? The growth spurt can really sneak up on you. Even though you can probably get away with those shorts "just one more time this season" there is really no compromising on kid's shoes. Keep a close on the aforementioned toe space for signs they are approaching the time for a new pair of soft sole shoes.
Measure, measure measure.
Did I say measure? Don't rely on the industry averages to work out the size of your toddler shoes. We are obviously all unique and different in our structure and physique. So the best thing you can do is assess their feet each time your purchase shoes individually. Once you have measured round up 1cm to select the perfect size in our range.
You can download our free foot measurement tool here. 
You'll also get a easy how to guide. (It's so cute you will want to keepsake it for their baby book too.)
Check out our range of foot shaped shoes, the best shoes for babies.