If only there was a way that our babies could communicate what they were feeling to us (apart from crying) …wouldn't life be so much easier?
Unfortunately our little ones can't tell us if their feet are sore cold or cramped well not in so many words.
So here are 6 Simple Steps you can take to look after babies feet.
      Monthly Pedi
It can be so tricky to snip those little nails and oh the fear of snipping their fingers in the process. We find Tommy Tippie Nail Clippers fab. They have a little guard that helps to keep their fingers out of the way. Touch wood we've been incident free so far. A super fine emery board works well too but can be a little trickier to operate successfully with a wriggly baby in your arms.  
Trim straight rather than rounding the edges to avoid ingrown nails.
      Keep an eye out for "Owies"
Obviously anything untoward check out with your GP. But for small cuts wash with soap and water and cover with a Band-Aid to prevent infection. Blisters can also lead to infection. Keep them covered and resist popping it. The bubble is nature's band aid. They are best left alone to heal naturally.
      Keep them clean and dry
Even before they are walking their little feet seem to act like a lint trap for all sorts of bits of fluff and bits n pieces. Be sure to clean in between the toes thoroughly with a baby specific soap. We love Weleda Calendula Shampoo and Body Wash. For my guys sensitive skin. (They also do a cream for dry skin called Skin Food that is amazeballs, I always have on hand.)
      Let them go barefoot
Sounds contradictory to protecting their feet doesn't it? You probably know I'm a big advocate for barefootedness. Letting bub go barefoot where ever possible allows their muscles and ligaments to develop naturally. (Just one of the benefits to going bare foot)
Ps. Once park play comes into the equation observe their climbing and balancing you'll see they find it so much easier to do barefoot too.
      When they are out and about they need protection though right?
I think you know what I'm going to say here…. Breathable Leather soft sole shoes are the best shoes for babies learning to walk when protection is required. Find out more to choose the right shoes for your baby.
      Create lots of wiggling opportunities
For your little ones feet to develop their legs need to be strong. The more your baby kicks and wiggles the stronger the muscles in their legs become to then effectively support crawling, standing and eventually walking. Avoid tight fitting clothing and socks so they can wiggle and giggle as they please.  
Take care of your little ones feet while your out and about, find out more about  Little Leather here
---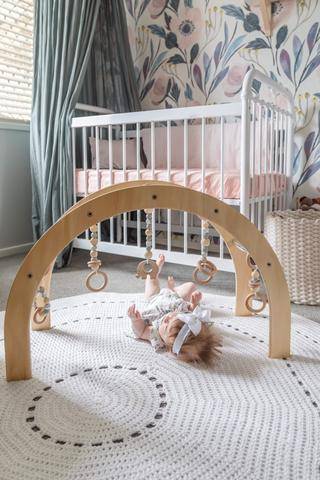 We love Nester and Cubs Baby Gym "jimmy" 
Their beautifully made and lovingly designed play gym will also aid your little ones cognitive development and help develop hand-eyeco-ordination and motor skills.